1 Hamlugro lake, 20 km west of Voss with Arse Seim

We're on the move
'Hearing apparatus, seeing apparatus, smelling apparatus, eating apparatus....' Sugata ridicules the necessary crutches of his venerable age, chuckling away.
'Passport, money, carkeys...'
'Thank you'
'Nothing to thank. 3.50' He's in sparkling form. 'And when are you going to travel with your husband?' he says with mock sincerity. When indeed.

Up over Hadanger Vida ('It's Europes largest uninhabited plateau' he tells me and I wonder how he cannot know he has said this 1000 times before, 990 of them to me, but then like an Advaita teaching, the words mean something different each time uttered, listened to with different time and space ears, and as we plateau out and stretch our eyes over this majestic, primal and timeless landscape, I remember the words of Arne Ness of Halingskarvet: 'Here on this mountain, it is impossible to think small thoughts.'

We're off to Voss where Sugata, then Karl Wagner, was stationed in 1940 - a reluctant German soldier and, increasingly, an unwilling occupier of Norway. As an interpreter, a skill he unwittingly learned in his wondervogel days crossing boarders escaping from the rise of National Socialism, he was posted in the telephone exchange to eves-drop on conversations for a whiff of sabotage, a task, needless to say, he did not find agreeable. But it was through this listening that he learned the language more fluently and came to in closer contact with the people.


As we round the corner from Ulvik to Granwin, Sugata exclaims:
'There, now you can see how the cliff falls sharp. There I became stuck on a ledge and would have froze to death were it not for the Norwegian resistance man.'

Falling in love with this land, exploring ways to find a path over the snow mountains, he ended one day precariously on a ledge from which a cliff face descended vertically down and up was no longer an option. A Norwegian resistance worker, who was also trying to find a way over the mountains avoiding the trains monitored by the notorious Witt, found the stranded Karl and with a rope lifted him up and brought him safe down the mountain to Granvin. As they neared the train station Karl said to the silent Norwegian:
'You go separate from me, for I understand you do not want to be compromised in your work'. The Norwegian had saved Karls life.

Yes, I saw the cliff face he must have met, and along with it, a tinge of excitement. We were in the entering the footsteps.

We pass Voss for now, and drive to Hambro lake, to Arse, who we'd met in Kathmandu. Along with the Norwegian Ambassador, she welcomed us for dinner at the Norwegian Embassy in Kathmandu one evening last October, along with some young Norwegian budding Buddhists.
'We have a hut in Voss' she said. 'When you come to Voss, come and bring Sugata'.


'We met at University' says Talyn, the gentle husband of Asa, and in his smile he is 19 years old again, and falling in love.
Ase and her sisters family hut. I feel your chromosonal link with your past, that as a child you brought sherbet from this now abandoned farm house that was once your Aunts (who was our age now, which was far away as the moon from you then), that from this water we look out on comes the story of your Uncle who drowned in a storm returning from seeing his finance (Ah love and alcohol - how they unbalance the senses: most deaths in water, Arse informs, are men found with their trousers down by their knees, the assumption being, tipsy with drink, they missed their balance having a pee.)

We talk of Knut Hamson, whose life Arse is reading (The Overgrown Path), and try to understand what conditioned a man at this time to favour National Socialism. While his stories sing Sugata's themes, (Growth of the Soil, considered Hamsun's greatest novel, deals with peasant life and Vagabonds depicts the rootless, wandering individual of modern society) his politics appear opposite. Throughout his life Hamsun had strong antidemocratic views. He was the only Norwegian writer of first rank who publicly welcomed the German invasion of Norway in April 1940. In 1946 he was tried and fined for collaboration. Our conclusion was that, living outside the direct manifestation of German National Socialism, Hamsuns belief was idealistic. Sugata's life was its manifestation.

During the war Karl had seen Hamson on a park bench at his home near Grimstad, sleeping in the mid-day sun, his hat tipped down shading his eyes, balanced on his curmudgeonly nose.


To catch the last of the sun, we drink Campari on their so-named Campari Height, 'Safe to drive with Campari', Sugata recalls the 1930's sound bite for the drink, which has us all in stitches. He's got an elephant memory.

With talk of war we ask: is the default in the human condition self-interest and cruelty for self-engrandisment? You have to cultivate good, says Ase. Good feels cultivated this day and night spent with Ase and her family. We feel full of their warm good will as we drive down to Voss the next day.


---
2 Voss

In Voss we find the first living testament to Sugata's story: Solveig Grae, aka Kirsten Valevatn. The flighty 16 year old who tenderly took Karl's hand as they drove on the sleigh through a dark night to the illicit barn dance; Solveig who danced with all, then bid Karl a chaste goodnight kiss knowing she was leaving the next day for her fiancé. It takes us a while to find her, and her a while to recognise Karl, but the smile that dawns on her elegant face is precious. 'Yes, I remember Karl Heinz Wagner' she says.


We started the day trying to locate the Grae family farm, where the young German soldier was welcome and could happily escape his barrack life, where he went that first Christmas invited to sit around the family table with Johan Grae and his homely wife. The farmstead was empty, no one answered our call.
'Yes it is the home of the Grae family' a neighbour said, 'They are on holiday. But there's another Grae in the old peoples homes down the valley.'

He is sitting in a chair as we enter the room and neither rises nor stops reading the newspaper. Something's not quite right. His mind has gone missing. 'Just 20 minutes ago', his definitely all together wife explained, 'his sister came visiting; she lives further down the valley.'
'Kirsten?' asks Sugata.
'Yes, Kirsten.'


.
Kirrsten Valvatn dusts down her old photograph albums and I see for the first time a photograph of Johan Grae and his wife. We exchange our books. Her published work is a meticulous stitch by stitch account of Hardanger Embroidery that embellishes Norwegian national costumes and deeply old fashioned things such as table cloths, runners and bed linen. As Sugata and she lilt away in Norwegian, I am left just to watch, and wonder how she feels reminded unexpectedly of that time when you are 16 again, like opening an old perfume as if yesterday.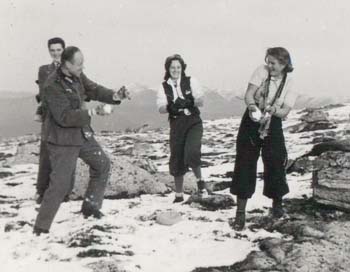 .
An afternoon of journalists, coffee and at last a beer.
I must do what I can to sell the book, I say. This is a chance.
Arne Hofseth of Bergens Tidende (arne.hofseth@bt.no) Rolf Tepstad of Avisa Hordaland (rte@avisa-hordaland.no)
Oh heck, Arne Hofseth says in a distinctly familiar English northern accent. He's married to a Yorkshire lass. He comes with us to where Sugata was living in 1940, behind the Post Office and into the garden of a man who's varnishing some furniture.
'Yes', says the man, 'There were German soldiers stationed here. My parents lived here then, and I was one year old.' Proffessor Ole Didrik Laerum, a scientist from the University of Bergen, has an open face and quiet energy, and is intrigued to hear Sugata's overlapping story.

We (literally) spend the night in an overpriced hotel in box rooms and feed on mass produced tasteless food - even the stalwart potato seemed alien from the earth and more like the tin from which it came. When I looked genuinely shocked at the Kr800 per night, they appeared to waiver the food bill. My god, with prices like this, we will have to sleep in the car!

---
3. NaeroyFjord to Stalheim & Turtagro
I'm singing Frank Sinatra on the boat, down the recently declared World Herritage Naeroyfjord, an intimate narrow water passage opening out into the Sognfjord. 'I did it my way'. Yes, this is Sugata's life, he was his own man, he did it his way.
I've lived a life that's full / I've travelled each and every highway / And more much more than this / I did it my way.


We call in to the Stalheim hotel.
'She was my best client' says Sugata. 'I used to pack up my VW van in Gol and bring her regular consignments of my rose painted wood'. So now we're in the 1970's, Sugata the rose painter living back in his beloved Norway. But, as it happened, we returned to the war. Ingrid Tonnerberry gave Sugata a hearty welcome and sat and enjoyed afternoon tea with us.
The hotel, she told us, was made famous by the German Kaiser who holidayed here regularly but with the outbreak of the Great Patriotic War it lost its popular client base, fell in to debt, and a foresighted lawyer brought up the dwindling shares for a song. He was Ingrid's grandfather. During the 2nd war, the hotel was requisitioned from Ingrids father. Initially it was used as an exclusive rest place for German soldiers fighting on the eastern front. Then in 1942 it was turned into one of the three orphan-homes in Norway, part of the Lebensborn project initiated in 1941 in Norway to care for the increasing number of children born of German soldiers and Norwegian mothers. In this way Lebensborn hoped to avoid a lot of abortions, or as they said: "loss of good blood".
'Leibesborn, literally it means 'wellspring of Life', Sugata explained.
'And the Norwegian mothers?' I asked.
'No. These childrens mothers gave Lebensborn the right to arrange adoptions for their offspring. The children were considered racially "valuable" and taken special care of; the most suitable were prepared for adoption in Germany. Yes, much has been written about this time and these children, for it effected them often dramatically and long term, as you can imagine.
'Yes, what happened to the children when the war ended?'
'There were more than 100 children at Stalhiem and only 15 nurses to look after them. A bizarre consequence was, having no mothers or direct contact, they had developed their own language. Yes really, their own language. About half were returned to their Norwegian mothers - those women who could be located and who accepted their charges. God knows what happened to them then. Many no doubt fled to Sweden to avoid the recriminations, which were fierce and often cruel. As for the rest, these are the tales of a darker history. They were outcastes in all societies. Life was dark and difficult for them.'

Born in '45, Ingrid herself has no memory of this time, but her elder sisters remember trying to barter for food with the Lebensborn children. Food, scarce for the Norwegians, was plentiful for the Lebensborn children who ate like princes and played with royal toys confiscated from the palace of the fled Norwegian King.
** According to Kåre Olsen 'During the war about 1200 of the 8000 "Lebensborn-children" were born at the Lebensborn-homes. At the end of the war about 500 of the children were living at the Lebensborns three orphan-homes.

'There is a beautiful water-fall up this valley'.
'I have absolutely no interest in beautiful waterfalls' I say.
'Why do you come to Norway? You do not want Viking museums, beautiful waterfalls, national costume.... Let us go to northern Germany. There we can travel through flat fields of potatoes.....'

From Stalhiem we took the old road, the 'Stalheim Kleive' an 18% descent down hair pin bends. And then up again in reverse for a tourist bus ascending - not straight forward in Sugata's car with no back window to see out of (broken by an Elk 5 years ago). The local farmer was furious when they built the new tunnel road, S tells me chuckling, for he had reckoned on a good business towing cars that got stuck, or rescuing wreckages that had fallen down the abyss.

The Wittgenstein trail, described by Talyn went cold on us: his original house (where he evidently lived a year of writing) had been physically moved and one after the other of all 3 near by camp sites we tried were full. It was the weekend, as we retired people with no sense of days of the week discovered. 'Don't worry, I remember there's a hut at Tutagro' says Sugata.
Guess what? Sugata's 1942 Norwegian Mountain Hut had been transformed into a state of the art fully commercial Hotel, charging Kr1,000 each to stay. It was 7 in the evening, what to do? They offered us bunk beds for half price, and happily we took them. The evening food (included) was delicious, a banquet of lamb and reindeer meat - which we 2 vegetarians ate without hesitation, washed down with a Kr70 glass of red wine. Delicious. The breakfast was the full monty with fresh baked bread, and by the time we left with well satisfied stomachs the high fee had became palatable.

'This mountain range is called 'Children of whores' the peaks are so numerous'. S told me as we sat on the veranda and watched the swallows swooping, wondering at their huge journeys across continents,


---
4 Roisheim /Juttenhiem / Juvassytta
We cross the mountain range, each turn more breathtaking. This was unexpected. In a snow field I throw a snow ball at Sugata, laughing afterwards remembering the photograph of him doing the same with the Grae daughters.


Thirta's younger daughter visiting Norway said to Sugata: 'In Nepal you must go to the mountains, here you can drive through them.'
Just as the splendour of the mountains was unexpected, Roisheim was packed with expectation. In the summer of 1942 Karl, out of his dreaded uniform, journeyed around Juttenheim, and Roisheim was his first night stop. When his German identity was revealed, the assembled Norwegian gentry dining on the bedecked refectory table, fell silent. They had come to these mountains to be away from the occupation and that darkness, and here was an unwelcome reminder, albeit a reluctant one. It was a piquant scene, hurtful to Karl yet he also understood. In another hut, the same reaction mellowed as the more middle class guests piqued with curiosity, stole themselves to question him, and the evening ended warm with friendship. It was here in these mountains that Karl first felt the unabashed friendship of the Norwegians, which he would later recall and put his trust in as he fled over the boarder.
Our plan was to spend the night at Roisheim, just as he had done in '42.
'Yes, we have one room left. Kr2,600', said the cool girl.
'I'm not sure you heard that, Sugata: she said Kr2,600'. I'm not sure I heard it.

To look was free, so we toured the downstairs, taking photographs of the fireplace, the beautiful rose painted chests, the fine water colour paintings on the walls, moved in location but unchanged from when Karl came. The owner then had two daughters, neither of which had married and carried a sadness that seemed to speak of their barren dead end. We do not know the story, but today, no longer the traditional family business passed down generation to generation, Roseheim was now a commercial enterprise owned by a conglomerate group of shareholders. They had not seen the majority owner in 3 years, the cool girl told us. They showed no interest in Sugata's history here, although I saw the manager cock his head with vague curiosity when I (deliberately) asked Sugata in a voice he heard:
'Where was it you met the Jew who was hiding here, and whose hands shock as you offered him a light for his cigarette?'


Out we drove, out of Kr2,600 a night, and up in our 4 wheel drive, up to Jotenheimans highest mountain to the Jurasshyta hut, family owned, and whose family member at the toll gate wavered the Kr70 charged to use the private road, falling in love with Sugata and a snippet of his story.

We did not share our story here. A torpor fell on me, and I could not rustle an energy to make connections. I saw the now old couple who run the hut, I looked at all the black and white photographs, of reindeer pulling sledges, old fashioned climbers, women wearing hats and long dresses standing in the snow fields for family gatherings.

I walked. It's tough walking through ice fields with menopause. Like putting a sauna into a freezer: deeply confusing. I tired easily. No longer the mountain goat, I watch strapping Vikings and their off spring overtake me with their long strides and tireless bodies. Sugata, without menopause, is determined I walk the glacier tomorrow; I am doubtful.

'Always rope up crossing the Styggebreen Glacier' the notice warns, I warm to its brutal description: 'The name means dangerous glacier. It moves at a rate of 30 meters a year. Natural 'snow bridges' cross the chasms underneath, but under sufficient weight the snow bridge will collapse and you will fall into the crevasse. You will fall until your head gets stuck between the ice walls, 15-20 meters down. Some survive the fall, but not for very long, for ice cold water runs down the walls and you freeze to death quickly.'

In my dreams I fall down crevasses, so wakeful I read 'We must talk to Kevin', then dreamed of Wednesday before Thursday.


---

5 Tolga Hut near Roros

A thick fog envelopes Tutagro and the mountains. No glacier today. Instead it was a day of roads. Roads never far from water, following the natural river course, opening out alongside lakes, where the sparkling light of water lifts, and plays.


At last we've found something affordable - before we ran out of money. A typical Norwegian hut, not on a camp site but privately run by an enterprising farmer up above the village of Toga. We cook soup and drink a beer.
'I have slept so much but I am tired again' says S curled up with Huxley in his sleeping bag. 'We can spend 13 nights here for one of Roisheim!', are his last sleepy words, his mind calculating. (Settersegga camp, Tolga90180185)


---
6 Leila the Sami

As we drive from Reitan station, Sugata pipes up:
'Leila was 6 years old then. Now she'd be .... 65!'
We had never dreamed of finding her.


Our original plan was to dive all the way up to Trondhiem. It was not so much the place that attracted me as a more nebulous and romantic notion attached to Trondhiem, the name, after working on 3 chapters in the book originally called Train to Trondheim and encompassing vivid stories from fellow passengers. The train to Trondheim was the beginning of Karls escape to Sweden. He leapt during the warm window of opportunity, the Kakeline, when the insufferable minus 40 temperatures thawed a few days before Christmas. Then he took his chance. Travelling by train from Oslo as a German soldier (with forged papers), he deliberately did not disembark at Roros, where he'd heard German soldiers were vigilant for boarder crossers, and instead he got off before at Storen, where he took the local narrow gauge railway to Reitan. From Reitan he would start on ski. On this local train he changed into his famous 'dissppearing outfit', every detail of it white, to camouflage with the snow. A local farmer along with the conductor, seeing what must have been obvious, offered the boarder crosser some guidance. This was the first in a whole series of gifts Karl would be given - so generously and courageously - to help him live out his escape. They advised him to follow the track immediately to the east, but avoid being seen by the Retian shop, they warned, for they were uncertain of the politics of the owner. Some crossers had been caught after calling in at the shop.

There was a feeling of the drama as I flourished the map on the car bonnet at Reitan station. 'Right: let's find the track', I said to no one in particular.
'Can I help you?' said a voice from a window. Just 5 minutes before Sugata had said, 'And typical of Norway, there is no one around to ask directions' and he was right, the station seemed particularly deserted.
'Yes, perhaps you can.....'
'Interesting', the voice said, 'An English voice and a Norwegian number plate'.
Ah, I clocked, a Sherlock, a curious man. I willingly offered some more mystery to solve, and a short version of Sugata's story. Not for two hours later did we set off. After delicious hot coffee and light mazipan cakes fresh backed by Joanna, sitting on a veranda in the warm sunshine; after beginning our story and hearing some of theirs, and feeling the surprising intertwining. Tronds grandfather had been the stationmaster here at Reitan, and his father was living here at the time Karl got off the train December '42. And some news for Sugata, two German soldiers lived permanently in the upstairs room.
'They must have been occupied with cards or local girls, when you passed through,' Trond suggested.


Tronds father later sold the house in the '60's, but it came on the market last year and Trond brought it back, back into the family. He was intrigued by this side snippet of history that passed near by his home in the form of Karl Hendrick Wagner. Come and stay with us tonight, he and Joanna invited, or come back tomorrow if it's too late.
Up the track, passed the private house that was the uncertain shop (closed down since '85 said Trond), up we climbed, into the landscape that was Karls route to freedom. Naturally then was dead of winter, snow covered, freezing cold, short days. Ours is the height of summer, bursting green, blue skies and warm sunshine, but the form is the same.
'See these stunted silver birches - the snow covers their low braches. My skis got caught in them and I kept falling over. It was exhausting. I really doubted I would make it. But then a sleigh passed, and I followed its tracks.'
We stopped and asked a man cutting seeded silver birches from his grass roof, where the lumber men's house may have been. Yes, he knew of it.
'Further back', he said. We'd passed it. It was the lumber men who'd passed in the sleigh, whose trust Karl sought (seeing they had holes in their jumpers, so you knew they were not German), exhausted and in need of food and shelter. They fed him hot reindeer soup, and drove him some distance on their sleigh then, after admiring his 'disappearing suit', pointed him in the direction of Fjellheim where Axel Axelson, the Lap lived. The Lap will show you the way over the mountains, they said.


On we travelled, looking always east to the boarder mountains. In the distance was a distinctive pass: was this where S was warned the German patrols would lay in wait for the easy catches of boarder crossers?
Passing the lake which, frozen, you skied over, we came to 3 Fjellheim's, upper, lowers and middle.
'There are people down here, let's go', I say, turning into a rough track.

We were interrupting a small gathering enjoying the afternoon sun in the protective lea of their house. Apologising for our sudden arrival, I asked if they knew of the house of a certain Axel Axelson, who in 1942 lived somewhere near here.
As it happened, one of the group was an authority of the Samai of this Roros region.
'I've never heard of an Axel Axelson', he said.
Sugata began his story in Norwegian. '..... And I came to this house by the side of the lake. The grandmother beckoned me inside, where a man was making Komag shoes. He invited me to sit on a stool, and continued with his work saying nothing. As if getting the smell of my atmosphere. At last he dropped his needle, and I could stand the tension no more. Are you Axel Axelson? I asked. Yes, he said, who has sent you. And I told them the lumber men. I will help you, he said, but first you must eat some reindeer soup and take some rest. I have seen you come over the mountain, dressed in your white suit.....'

'Yes', said the woman who must have been around 65, 'Yes, I remember the white suit'. And Leila, who was 6 at the time, spontaneously embraced Sugata.
'The name is not Axel, but Lars Axon', corrected Sverre Fjellheim, our authority on Roros Samai. (sverrefjellheim@hotmail.com).
Now the man who was chopping wood stopped chopping and came over. The friends who were visiting, came closer. Sugata began to spin the story. Cameras clicked, coffee and food were offered. Slowly the questions began.


I listened to the lilting voices, half wondering what their gentle questions were. A courageous gift given by her father, with no expectation of a return, to the contrary, a chance of being punished, returns and visits his daughter, 65 years later this summer afternoon. She had those same sparkling eyes that Sugata wrote about then, sharpe and quick-witted, instinctive like an animals eyes. At the time of writing, I'd baulked when Sugata yet again described her eyes as almond: 'Not another with charming almond eyes', I'd protested. I may have been having a mean street day. But here they were. I read her the paragraph from the book:
.


A little girl, looking just like a doll, came in. She was Laila, Axel's 6-year-old daughter, with milk white skin, rosy cheeks and almond eyes. In front of me, he presented her with his Christmas gift, the smallest skies I had ever seen, that he had carefully lined with reindeer skin. She skied off, skilfully using the traditional single ski stick, flinging her head backwards and smiling at me with her almond eyes.

.
'What happened when you left Lars Axen?' they asked. He tells of how he hid behind a rock when the journalist and 2 German patrol soldiers appeared, who Lars Axon had warned Karl about for they had visited him the day before. How they settled down for a picnic, as Karl pointed his gun alternatively at one and then the other for surely the dog with them would smell him. How they discussed tactics for catching boarder crossers, and chassed them well over the boarder, and what fools these boarder crossers were not to realise. And when they had gone, Karl stood up, and felt the wind. By chance he was upwind of where they were - so it was he had heard every word, yet the dog had not caught his scent.

'Yes, I came back in 1957. One Christmas I retraced my escape over the boarder in the reverse direction from Sweden to Fjellheim and I came to Lars Axon. Until then he had no idea if any of those he'd helped had made it safely to Sweden. Yes, I remember he was very pleased to see me. The grandmother was of course dead, and you were not there. He'd heard about the world under the sea, of a person called Jacque Cousteau, and when I returned back to Sweden, I sent him a picture book of his photographs.'


We presented our book to Leila. I read her our inscription:
For Leila. In 1942, 65 years ago, your father fed, protected and guided Karl across the boarder. With a risk to his own, he gave Karl a chance of a life, and here, written down, is some of it's story.

It was by a most fortunate chance that they were here at Fjellheim. They no longer live here but at Gardimond. They were up for a few weeks holiday, and would return in four days time.

Laila Axman Bilben / Fjellstein 14 / 2056 Algarheim / Tel 63976875 / bilbe@online.no


As we bed down that night, in a room in a near by farm, Sugata says:
'Wouldn't it be wonderful to have a ceiling like in Leila's house? Did you see it? The wood was curved, and it gave such a feeling of intimacy.....' Never resting in the sentimental past, he is busy planning his future hut.


.
.
.
.
.
---
Sweden
'I feel always so sleepy in Sweden', Sugata's first words over the boarder, and I see what he means. We stop at Ramunsdsberget, a desolate ski resort, huge buildings and no one on the streets. Two cups of strong coffee and 3 sweet soft cakes ('Typical Swedish cakes, without nourishment', Sugata explains) we drive up a track, and stop when it ends.
We have no map, no compass, no idea exactly where we are going, except a name, Klinken, and an image from 65 years ago. We walk. The track divides, we have no idea if we take the right forks. I hold the idea that Knut kept a good path in good working order, and keep to the stronger way. Over a hill, I saw smoke from a distant grass roofed hut.
Smoke. That was what Karl smelt in 42. After hours of nothingness, just snow meeting sky, exhausted after 18 hours non-stop ski-ing from the Axel the Lapps house, uncertain if he'd crossed the boarder if he was safe from the patrols that he now knew crossed the lines, he smelt smoke. He came up to the house. Framed in the door way was man silhouetted by the light of the fire inside.
'Good afton', he said, and at that moment, Karl knew he was in Sweden, and safe.

As we approached the hut we saw a man outside. He was sitting on a bench watching us approach. A farmer type about 70 wearing a baseball cap.


Yes. He was the son of the first Swede Karl met over the boarder who greeted him with Good afton. Johan Sv. Mayhr would have been 12 at the time, and never saw Karl for he lived down in the valley. It was his father who welcomed Karl, fed him and talked with him while the storm outside raged.
'Over 500 escaping refugees came through this way', Johan said And this was not a popular crossing route.
'No-one has ever came back', he said. 'You are the first'.
Once again we are lucky to have found them. They do not live here and by chance were up for a couple of weeks, leaving in a few days.
Johan Sv Myhr / Farupsbacken 3 / 84097 Bruksvallarna / Sweden
.



Reitan
Tired but full of lives and stories, we return to where the flight began, to Reitan Station, and to the unforeseen friendship of Trond and Joanna, who listen to our tales of adventures and fed us food and gave warm beds for us to fall exhausted to sleep.
We meet Tronds father the next day in Roros, who welcomes us waiving a newspaper carrying story about Sugata. Oh to sell a book!


As we drive the long landscape unfolding drive from Roros down to the eastern side of Jutenheimen and finally back to Geilo, we are both silent in our thoughts, the events of the story unfolding in our memories, Sugata no doubt planning his new hut, how he can bend the ceiling wood like Leila's hut, finding the colours he can rose-paint.

We arrive back in the long evening light, clouds like water colours seep around Hallingskarvet. As my love of that mountain grows, I begin to understand this deepening people have to where they are, weather it be a chimney, a mountain, or an oak tree. Here we are in Sugata's adopted land.
'So we shall sell Sangrila for 2 million and go and live in Rosheim? At 2,600 a night, 4 nights would be10,000,.... we could live there for 2 years. Then bouf!', he mimes shooting himself in the head 'Why not? Nothing more to do!'
Posted July 2005